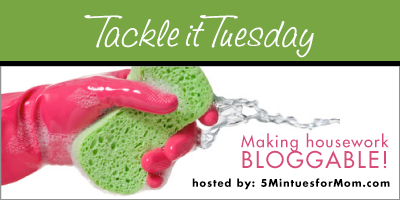 I saw this over at
5 Minutes for Mom
this morning and thought I'd join in. To find out more about Tackle it Tuesday, check out this
post
. Basically, you post up your goals for the week on what you want to tackle - no matter how big or small. It doesn't have to be housework, just anything on your To Do list.
What are YOU tackling this week?
My to do list this week includes the following:
Finish my fabric backed wedding invitations (and create a tutorial)
Finish my dresses for Stoopher & Boots (almost done!)
Mail wedding invitations
Mail the baby gifts for Creative Minds (she's due any day now!)
Finish up some Etsy orders and mail them off
Clean the bathroom
Finish picking up the living room
Clean out the fridge & clean off the counters
Wash crayon off the hallway wall
Pick up fabric for M's dress for the wedding
Burn a minimum of 1400 calories using Wii Fit Plus by Monday evening (that's 200 calories per day)
That's it! I won't put more his list because if I do, I'll never finish it this week!